Special Education Surrogate Parent Program
The Massachusetts Special Education Surrogate Parent Program (SESPP) appoints trained volunteers across the Commonwealth to act as special education decision-makers for students who have no parent or legal guardian. 
The mission of the Program is to promote positive educational  outcomes for children and youth in state custody by providing volunteers to represent their best interests  in the special education process.
Our Program
The Special Education Surrogate Parent (SESP) Program is a statewide organization that was established in response to State and Federal special education laws requiring parental participation in the IEP process. The program is specifically focused to ensure that this right is extended to students in the custody of the Department of Children and Families (DCF), and to students whose parents are unknown or are unable to participate in the decision making process. The program identifies eligible students and matches the student to a trained volunteer, who then works with other members of the team to develop an appropriate educational program. Our Special Education Surrogate Parents have been serving students across Massachusetts for over 30 years.
The Massachusetts Department of Elementary and Secondary Education (DESE) contracts the responsibility of managing the program to two agencies, The Collaborative for Educational Services (CES) and the Federation for Children with Special Needs. CES's Special Education Surrogate Parent (SESP) Program, is responsible for student eligibility determination, SESP appointment, and case management. The Federation for Children with Special Needs is responsible for volunteer recruitment, training, and support of the SESPs through the Recruitment, Training, and Support Center (RTSC).
Eligibility and Outreach
Students eligible for SESPP typically reside in a variety of living situations that may include residential schools, group homes, hospitals or pediatric nursing homes, state institutions, diagnostic placements, and shelters. There are over 730 students throughout the state currently represented by a Special Education Surrogate Parent.
In addition, the program conducts outreach efforts to DCF offices and to school districts across the state by offering training and informational materials; acting as a resource for local school districts, school placements, state agencies, and other community providers on the eligibility criteria of the students it serves, as well as the rights and responsibilities of the SESP volunteers.
Our Volunteers
There are over 500 current SESP volunteers actively appointed to at least one student.
Our volunteers include retired and current teachers and administrators, parents of children with special needs, attorneys, relatives and visiting resources, concerned citizens, and professionals in education and human services.
Megan Ronzio
Megan Ronzio is director of the Special Education Surrogate Parent (SESP) Program, a DESE project contracted to CES. Megan has been with the SESP Program since 2004, beginning as a case coordinator and then moving to the role of director in 2012. Prior to her work here Megan served in a variety of educational and public service roles, including teaching at a local therapeutic residential/day school and as a case manager for both the Justice Resource Institute in Boston and South Shore Mental Health in Quincy. Megan moved to the US from Canada after completing her undergrad and holds a Masters in Public Administration from Framingham State University.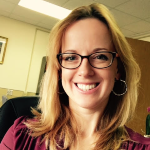 Position: SESP Program Director
Email: mronzio@collaborative.org
Phone: 617.953.5825