The Occupational Therapy Center
The OT Center has been providing services to the Pioneer Valley community since January of 2000. The OT Center offers a holistic, trauma-informed approach to occupational therapy that connects therapy with the settings and tasks encountered in daily life. We specialize in providing Sensory Integration evaluation and treatment for children, youth, and adults.
Caring and experienced therapists with special expertise
Our therapeutic space offers state-of-the-art equipment and a safe, playful environment with personalized treatment opportunities not always available in a hospital, school, or home setting. The Center's main room resembles a gym that provides opportunities for a variety of movement experiences. Tactile materials and small manipulatives help address sensory and fine motor needs. A separate evaluation room provides quiet, focused space for an accurate and thorough assessment of specific needs. 
Our Approach
Our holistic approach connects therapy with the settings and tasks encountered in daily life. Treatment plans are developed in close collaboration with home and school teams.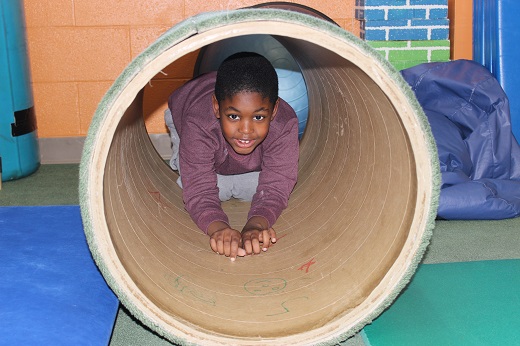 …a day does not go by when we watch our son engage in some activity that, prior to your working with him, would prove unthinkable.

— OT Center Parent
OT Center Therapy Can Address
Gross Motor Development:

Coordination, balance, motor planning, increased physical confidence, and safety awareness

Fine Motor Development:

Hand skills, dexterity, bilateral hand use, eye-hand coordination, and handwriting skill development

Sensory Processing:

Integrating responses to information perceived through touch, sound, movement, and other senses; specializing in addressing sensory registration and sensitivities.

Play, Social, and Academic Skills:

Engaging with people and the environment; organization, flexibility, and self-regulation

Daily Living Skills:

Self-help skills for everyday tasks, appropriate social and communications behaviors
Services Include
Individual treatment

Evaluations – Sensory-motor and sensory processing

Sensory Integration and Praxis Test

Consultation to schools, daycare centers, families, and agencies

Workshops and presentations for educators, parents, and healthcare professionals

Auditory Integration Programs: Therapeutic Listening and Quick Shifts / Binaural Beats
Who Does the OTC Serve?
Our staff of licensed, trauma-informed occupational therapists have extensive experience evaluating and treating children and adults with various needs, from typical individuals with mild delays to those with specific disabilities such as autism spectrum disorders, cerebral palsy, Down syndrome, ADHD, and other issues. OTC services are available to families, schools, and other agencies. When working with schools and districts, treatment plans are developed in close collaboration with school teams.
Signals that may indicate a need for occupational therapy include:
Delays in motor or communication skills and/or academic achievement
Over or under responsiveness to sensory experiences such as touch, movement, sight, or sound
Physical clumsiness
Distractability and/or impulsiveness
Social and/or emotional issues
Difficulty interacting with others
Repetitive or unusually intense behaviors
Resistance to change in daily routines
Poor self concept
Sensory Integration
Sensory Integration is described as the organization of the senses and how they work together to guide the way that we perceive and respond to our environment. Basic sensory inputs such as touch, sound, movement, and body position help us to plan and execute new actions based on past experiences and the sensations that accompany them. For most of us, this process develops naturally through our usual activities, but when the system does not develop as effectively as it should, the result may be difficulties in learning, motor development, social awareness, or behavior.
With a staff that has extensive training and experience in Sensory Integration theory evaluation and treatment, the OT Center has become a leader in recognizing and meeting the special needs of those with autism disorders and other developmental disabilities.
Noel Kesselheim, OTR/L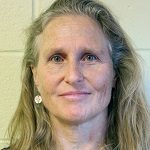 Position: Clinic Coordinator, OTR/L Registered Occupational Therapist, SIPT certified
Email: otc@collaborative.org
Phone: 413.588.5279
Karen Fiegenbaum, OTR/L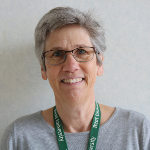 Position: OTR/L Registered Occupational Therapist
Email: otc@collaborative.org
Phone: 413.588.5279