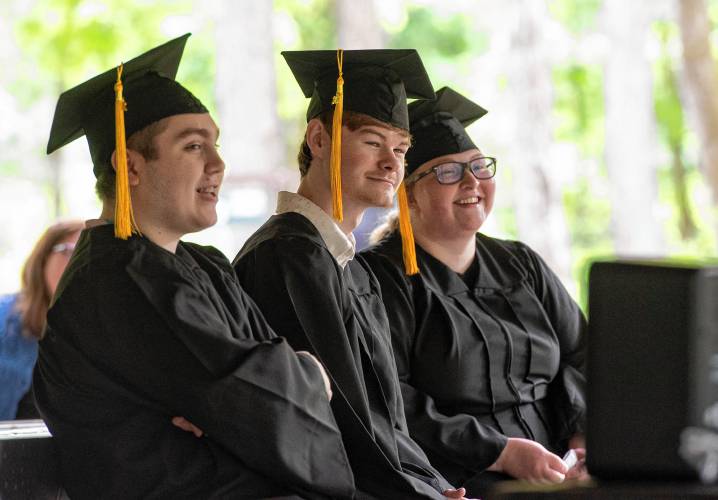 Photo courtesy of Daily Hampshire Gazette Staff Photographer, Kevin Gutting.
Mount Tom Academy, an alternative learning program run by the Collaborative for Educational Services (CES) and hosted by Holyoke Community College, graduated four students in an in-person ceremony held at Look Park on Thursday. About 30 friends, family and staff at the school gathered at the West Wood Pavilion to hear a commencement address by CES Interim Director, Karen Reuter, and 2020 alumna Tessa Scagliarini of South Hadley; and to celebrate the accomplishments of Tyler Rooney of Ware, Colin Monette of East Longmeadow, Molly Kenney of West Springfield and David Martin of Northampton, who was not present at the ceremony at Look Park. Teachers and staff expressed their great pride in the graduates' hard work and perseverance, especially during the past difficult year.
Mount Tom Academy at Holyoke Community College is an alternative learning program for high school students for whom an alternative to traditional high school settings can be beneficial. The graduates have completed their high school work at Mount Tom Academy and receive their diplomas from their sending schools. The program identifies the strengths, talents, and unique abilities of its participating students, providing the opportunity for qualified high school students to pursue dual enrollment options to earn both high school and college credit. The Academy offers an open, diverse environment that challenges students while providing personalized support.
Graduates and staff of Mount Tom Academy also honored retiring assistant teacher, Carol Jackewich. Carol is retiring after several years of dedicated teaching at CES, including the past three years at Mount Tom Academy. The teaching staff joining students at Look Park for the celebration included Carol Jackewich, Elise Robinson, and Allyson Mazzuchi, Educational Mentor.